My First "Taste of Honey"
Growing up in Cleveland, Ohio, I remember the summer of 1963 when my neighbors had their niece and nephew visit from Scotland.  The 16-year-old gal with the thick Scottish accent was Iris Campbell, who was showing me some records she brought with her and one of them was a 45 rpm entitled "Love Me Do" and an album "Please Please Me" by these four boys with moptops and bang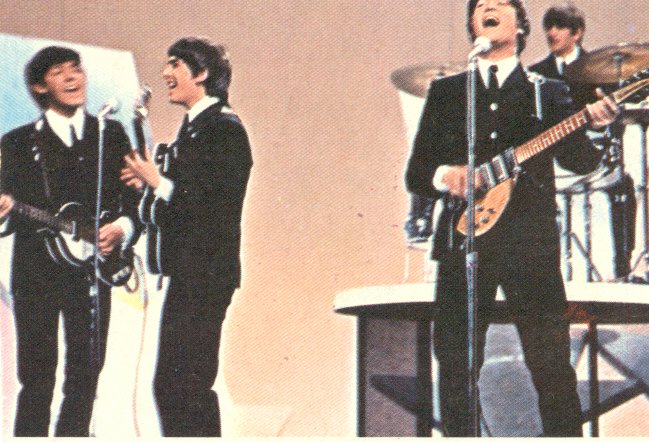 s, just like me (but I was a girl).  Then she started playing those records on the turntable in the living room and sang with the songs, danced around, and squeaked out girl-in-love sounds that I did not yet understand. 

I was only 10 years old, but being tall for my age, I guess she thought I was a bit older and into boys, like herself.  Actually, I was still into hop-scotch, catching and jarring lightning bugs at night, rolling down the hilly short front lawns for fun, or getting my hand caught in the wringer-washing machine. 

She had told me all about the Beatles' popularity in the United Kingdom.  I grew up fast that summer and my hormones were beginning to move me into puberty.  After she left, I didn't remember hearing or seeing much of the Beatles on American TV or radio at all.  But then on February 7, 1964, on my birthday, the Beatles landed in New York.  Two days later on February 9, they were on TV performing on The Ed Sullivan Show (which I watched!).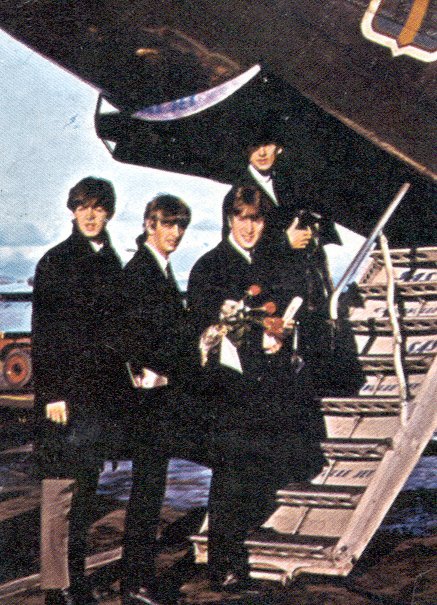 The following summer  I took a job pulling weeds and sprinkling my neighbor's lawn.  This gave me money to spend on vinyl. Every Saturday afternoon, my best friend and I walked up to the shopping center where the local record store was and would buy Beatles, Byrds, Animals, Hollies, Small Faces, Spencer Davis, Dave Clark 5, Rolling Stones, Kinks, Yardbirds, Searchers, Who, Beach Boys, Paul Revere and the Raiders, Doors, Motown, and psychedelic/garage band records.  I was lucky enough to be in England and Germany several times from 1968 to 1980 (and lately 2013) and picked up many picture sleeve 45s that are still in great shape.
Over the next year my best friend and I became big fans of this music scene and so did a couple of my cousins.  Every weekend when our families got together, my cousins--Buzz and Manfred (RIP Manfred - a.k.a. Stan Townhouse and Sonic Stan from the late '70s Cleveland band Baloney Heads and later Dukes of Windsor)--and I would be in the basement spinning Beatles' 45s and singing along.  One afternoon we played "Thank You Girl" 25 times in a row because we were trying to imitate their "aow, aow" vocal sounds for fun.  This created a lot of noise and one of our fathers came down to see what was going on.  We just smiled at him.  Then he just shook his head in disgust and left.  Of course, we were all thinking how square the elders were in those days.
It has been many years since my fun life revolved around rock magazine subscriptions (which I still have!), attending weekly concerts, hitting the club scene (OK, I'm still doing that here in Cleveland, too), having best friends in the music promo/sales industry, musician friends (yeah, and boyfriends), getting my sister to sing in my friend's band, and being lucky enough to meet some cool musicians/bands by sheer luck and being at the right place at the right time--Steve Marriott/Humble Pie, Ray Davies/Kinks, Robin Zander/Cheap Trick, Joey Molland/Badfinger, Slade, Barrie/Eddie & The Hot Rods, Larry Tamblyn/Standells, Joe Elliott/Def Leppard, Phil May/Pretty Things, Russell Mael/Sparks, Colin Hey/Men at Work, The Nerves, The Beat, Faith Hill, and Paul Simon and the B-52s during the filming of his '80s movie, One Trick Pony when I was an extra in that movie; and recently in 2016 I met the David Bowie tribute band, Holy Holy, that has original drummer Woody Woodmansey and guitarist and producer Tony Visconti playing together with other great musicians--are just some great musicians I remember meeting.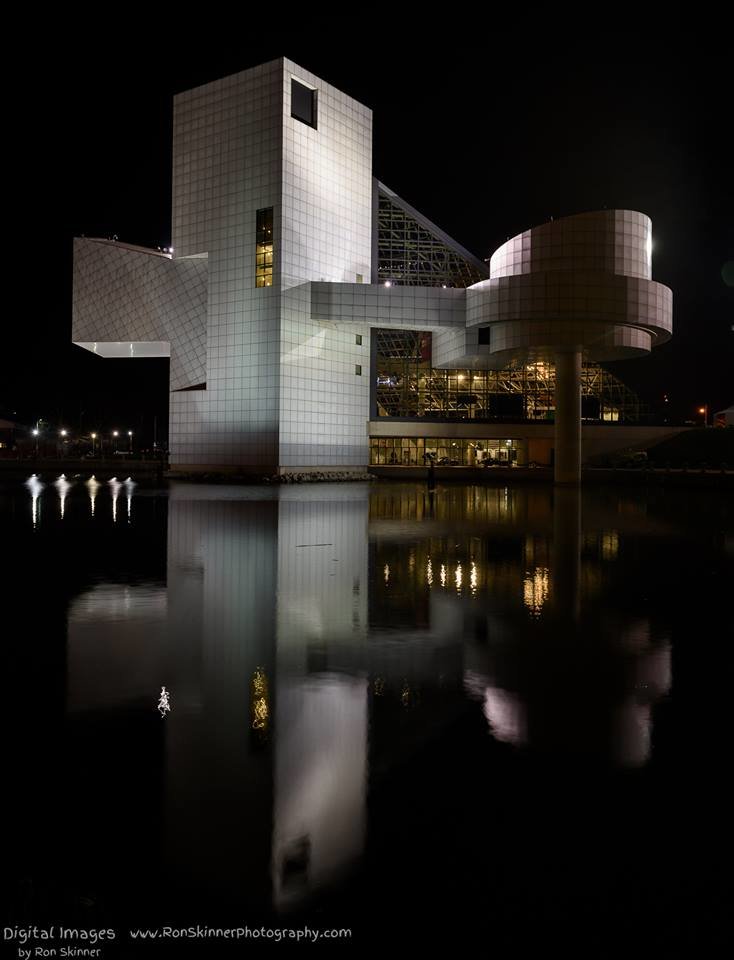 My brother-in-law, Norm, who should be a comedian, coined a phrase for me:  Doris--That aging rock & roller dealing with midlife now and who just can't seem to get the hang of it!   Probably said this because to this day I'm still seeing my friends play out in their Cleveland bands weekly and I'm selling all this vinyl from friends and family collections!  Time has crept up fast and made constant changes to my life, good and bad.  This website was created to share with you items from those good old years.  Maybe, eventually, I might even add a blog-type page where I can tell stories of all the crazy parties and music/band experiences I've encountered!  The building photo to the right is the Rock & Roll Hall of Fame Museum here in C-Town--compliments of my photographer friend, Ron Skinner (ex-Baloney Heads band member).

Please take some time out of your life to enjoy music, dance a little, jump into new experiences, and have fun, while you can.  Thank you for checking out my website and hope you find something here that will give you an enjoyable remembrance of the past.  I may consider offers, too, so email me for that.  It's going to take a year to get everyone on here, I'm sure.  I also sell a certain amount of records on ebay in my vinylexs store there.  And under ebay id surplus-x, I also sell a small amount of books, knick-knacks, and miscellaneous parts, and similar.     

Doris Lee
a.k.a. over the years: Dee, DD, Doris-the-Finkasoris, Doris-the-Motown, Doris-the-Mod, Dorie-Duck, Doe-da, Dorchen (German), Dorese of Brookpark, Dor-As*, and lately, (my favorite) Dor-able.  How can someone have so many nicknames? 

P.S.  That "Thank You Girl" 45 rpm I mentioned earlier will not be listed in the Vinyl-EXS database.  Afterall, it was played more than 35 times in that one day alone, so it was trashed a long time ago.

P.S. #2.  As of 4/2/19 I have created a spreadsheet of approximately 1,758 of 7" singles.  It will take me a year to get all that on here, but little by little it will be done.  If you want a copy of the spreadsheet (as a .pdf format, copy and save this link in your browser:  UPDATE HERE.  I will be replacing this link with an updated version probably this week (April 2022) 

https://documentcloud.adobe.com/link/track?uri=urn%3Aaaid%3Ascds%3AUS%3A6b3b88b8-fc6b-4ee1-9c63-b04743153c28
or email me at vinylexs@gmail.com if you want me to mail it to you directly.  I have the artists in alphabetical order, then the label and number, if picture sleeve or plain, visual look at the record for grading, and some pricing.  Some will also go into my ebay store for auctions.