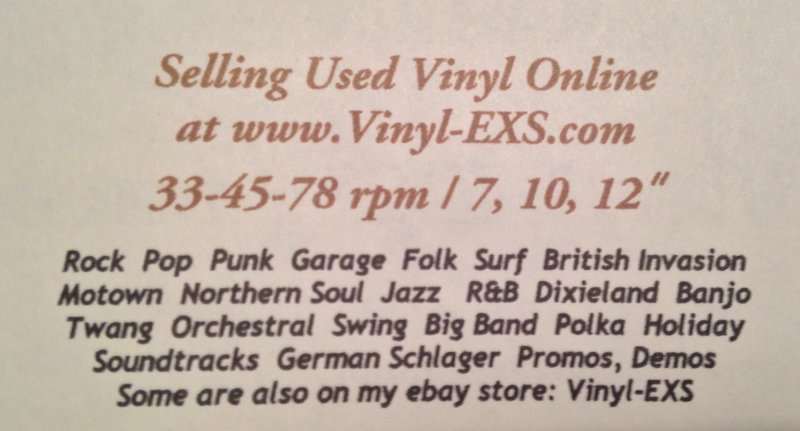 Since Filedropper.com does not seem to be working for me all the time to see my list of over 1700 45s or get sound bites from a few older ones, here is a new link to get a .pdf version of all the 45s I have that most still need to be entered into this website or my ebay store under vinylexs.  Copy and paste this in your browser and you should get all the pages in alphabetical order according to the artist or band name:  

https://documentcloud.adobe.com/link/track?uri=urn%3Aaaid%3Ascds%3AUS%3A6b3b88b8-fc6b-4ee1-9c63-b04743153c28
OR email here at vinylexs@gmail.com and I can send you the .pdf via email, too. 

And here is a link to see a
chart of albums
I have by artist, most are not listed here or ebay yet, and I don't show all the details as to the name of all the albums, just the artists' names.  Here is a link to Adobe Cloud to access that LP list of over 1100 names of rock/pop/50s pop singers, some country, some orchestral.  I have to play and grade them yet, but one by one will get them on here or ebay store. 
https://documentcloud.adobe.com/link/track?uri=urn:aaid:scds:US:3bcec909-8787-48f6-a092-3143c38bbbb6    

You can also email me at vinylexs@gmail.com if you want me to get a certain group listed first.

_________________________________________________________________
Cleveland has always had tons of clubs filled with live music of all genres from the downtown area to the far suburbs.  Family members and friends were (and still are!) local singers, guitarists, drummers, keyboardists, and managers and some started entertaining in the late '60s!  I was not even a teen yet when listening to the British Invasion bands, and still today I can't live without rock/pop/powerpop/garage/punk music around me.  
So here I share my love of music in selling (mostly used) vinyl of all sorts and genres that has been collected from friends and family and time I spent in Europe.  It's going to take some time to get the thousands on here, but week by week some will get on.  I also sell on eBay, mainly auctions for certain vinyl, and that store is named Vinylexs.  Some items may have a lot of details about the vinyl itself, while others just have the basic few line descriptions.  To get all the records into the website, I will have to just tone down my info on the record and stick to the quality and grading info.  Some mention the matrix numbers, some don't.  If you reach an item that doesn't mention it, just email me at
vinylexs@gmail.com
and I'll get it for you.  The records are alphabetized by band name or if it is a person's actual name used in the band name like Dave Clark Five, it will be under "Clark". 
Also, since right now as of May 2016, I have about 200 items here that are detailed and have pix and price.  To put more in faster, I will just type in the titles and artists right now so that you can at least see what I have to offer, and will eventually get back to each one with details, pictures, and pricing after I review each one in detail.  If you see one you are interested in that I don't have any details about, just email me at
vinylexs@gmail.com
about that one and I'll get to it within 24 hours for you.
I have a great brother-in-law, Norm, that says I'm "that aging Rock-n-Roller chick who is supposed to be dealing with midlife right now, but she just can't seem to get the hang of it!"

Hope You Find That Record You've Been Looking For!